Campitlo Mattese, a popular ski resort in south-central Italy, was unable to support skiers due to high temperatures and lack of snow.Image source: US "Time Magazine" website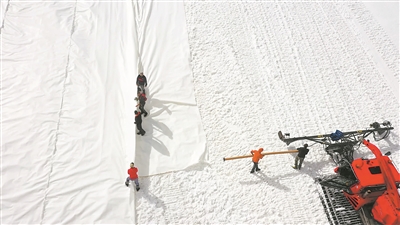 Some ski resorts are covering glaciers with protective blankets to keep them from melting during the summer.
Image source: BBC website
Anzell in Switzerland has been dubbed the greenest ski resort in Europe. This Swiss village encountered difficulties during the "opening" stage of the 2022-2023 winter. Like other Alpine ski resorts, low-lying Ansel was forced to close some pistes due to lack of snow and rainy weather at the end of the year and the beginning of the year.
According to reports, the Alps experienced record high temperatures last Christmas and New Year, with temperatures in northwestern Switzerland hitting 20.9°C. While snow returned here in early January, recent warm weather across the Alps has many resorts realizing they have only two options: close or adapt their business models.
"When the temperature rises,[water vapor]falls as rain, not as snow," says Marie Cavitt, a glaciologist and climate researcher at the Catholic University of Leuven in Belgium. What happens is that the altitude of these ski resorts is lower than 1600 meters. There, more sleet weather adds to the melting of existing snow. In low-altitude ski resorts in Europe, the snow depth shrinks by 3-4 cm every 10 years.
Many worry that climate change is making skiing scarce. From the Swiss Alps to the Rocky Mountains, winter sports resorts around the world are grappling with the effects of climate change.
Covering glaciers with protective blankets in the Alps
As temperatures rise, the ski season gets shorter and the slopes get more green. Frequent torrential rains in the Alpine resort have also contributed to melting snow and muddy areas.
In addition to taking steps to reduce emissions, Ansel is planning ahead for an era in which the ski season disappears. More investment is being made in bike paths, hiking routes and walking trails, emphasizing that these facilities are available in all seasons.
During Christmas and New Years, many alpine resorts were forced to close their ski slopes because the temperature was too high to produce artificial snow. Meanwhile, some resorts have resorted to covering the glacier with protective blankets to keep the snow from melting in the summer. The blanket is made of white UV-resistant synthetic material that protects the thick winter snow from the sun's rays on warm summer days. According to a 2021 study, the technology could reduce snow and ice melting by 50% to 70% compared to unprotected glacier surfaces.
However, the researchers caution that the process is costly. It is estimated that covering all of Switzerland's 1,000 largest glaciers will cost about $1.5 billion a year. Such adaptations can also have negative impacts on the environment. Despite the bleak outlook, many resorts are setting ambitious long-term sustainability goals to reduce emissions and preserve natural resources.
Italian ski resorts target summer sports
Italian media have warned that those working in the tourism industry must accept that the future of skiing will no longer exist. Pessimistic research predicts that skiing in the Dolomites will end as soon as 2036.
Marco Bussonne, president of the Italian Federation of Mountain Communities, said it was crucial that winter sports venues instead invest in summer tourism.
While no business has given up on winter sports just yet, investing more fully in summer sports could be a good business strategy. In addition to running cable cars and operating mountain hotels in summer, some practitioners also suggest that the government and the community invest in reservoirs, which can provide water for snow cannons in winter, and become tourist destinations for tourists to fish in summer , boating and sightseeing. And, they could provide water to fight bushfires caused by a warming climate.
North American ski resorts look for sustainable alternatives
Canada's "Globe and Mail" reported that the country's ski resorts are facing dual challenges, including a long-term climate crisis and short-term warm weather leaving "bald spots" on the snow-capped mountains. Ski resort operators are struggling to adapt to the crisis.
Last year, Moonstone Mountain Resort in St. Louis, Ontario, near Barrie, Ontario, not only suffered heavy losses due to the shortened ski season due to the new crown epidemic, but also invested nearly $2 million in extra snowmaking equipment and pipelines due to warming climate.
The resort is located in an area north of Toronto where it often snows. But in the era of climate change, snowfall in the region has become unsustainable. The Canadian Environment and Climate Change Monitoring Station reports that the region will see more rain than snow in 2023.
Resorts are spending more and more on snowmaking, forcing most resorts to find solutions. For example, the Blue Mountains Ski Resort in Ontario has reduced electricity consumption for its nighttime ski lights by 40% by retrofitting LED lighting and used 30% fewer water pumps to make snow than in 2015.
In Ontario and the eastern United States, larger ski areas also recognize the need for diversification. Spas with low demand for snow, indoor water parks and children's sledding tracks are blooming in the ski resort. Holiday Valley in Ellicottville, N.Y., has featured roller coaster rides through the woods and golf during the non-skiing months, while Blue Mountain Ski Resort has positioned itself as a year-round sports and spa destination.
Reporter Zhang Jiaxin
[
责编:涂子怡 ]