According to news from Futu Information on May 12, the three major indexes of the Hong Kong stock market fluctuated and fell in the afternoon. The Hang Seng Index fell 0.59%, the KCI index narrowed sharply, closing up 0.29%, and the State Enterprise Index fell 0.47%.
In terms of sectors, the gains of science and technology Internet stocks narrowed in the afternoon,After the results, JD.com rose by more than 7%, Baidu rose by more than 3%, Meituan and Alibaba rose by more than 2%, and Tencent rose slightly.
Most Chinese concept stocks returned to Hong Kong rose,Zhihu rose by about 9%, Weibo and Autohome rose by more than 5%, Baozun e-commerce rose by more than 4%, and MINISO rose by more than 1%.
Power stocks continue to rise,Huadian International Power and China Power rose more than 3%, Datang Power and Huaneng International Power rose more than 1%.
Film and television entertainment stocks performed well,Tencent Music rose nearly 5%, Cloud Music rose more than 2%, and IMAX China rose more than 1%.
Domestic insurance stocks all fell,China Taiping fell more than 4%, China Pacific Insurance, China Ping An, and the People's Insurance Group of China fell more than 3%.
Gold stocks tumbled,China Gold International, Zijin Mining, and Zhaojin Mining all fell by more than 8%.
In other respects, the concept of "China Special Evaluation" and the financial sector continued to pull back; auto stocks fell; some chip stocks and infrastructure stocks fell sharply.
In terms of individual stocks,After the results, it rose by nearly 3%, and the business maintained strong growth. Q1 revenue increased by 54.2% year-on-year.
It fell by more than 3%, the stock price has been cut in half during the year, and Q1 turned from profit to loss year-on-year.
Non-ferrous metals fell by more than 8%, and institutions said that the economic recession is expected to continue to affect the market of non-ferrous metals and precious metals.
With a drop of more than 7%, VLCC freight rates have weakened in the short term, and the industry is still optimistic about the demand for oil transportation in the second half of the year.
Today's Hong Kong stock market turnover TOP20
Hong Kong Stock Connect Funds
In terms of Hong Kong Stock Connect, the net outflow of Hong Kong Stock Connect (Southbound) today was 584 million Hong Kong dollars.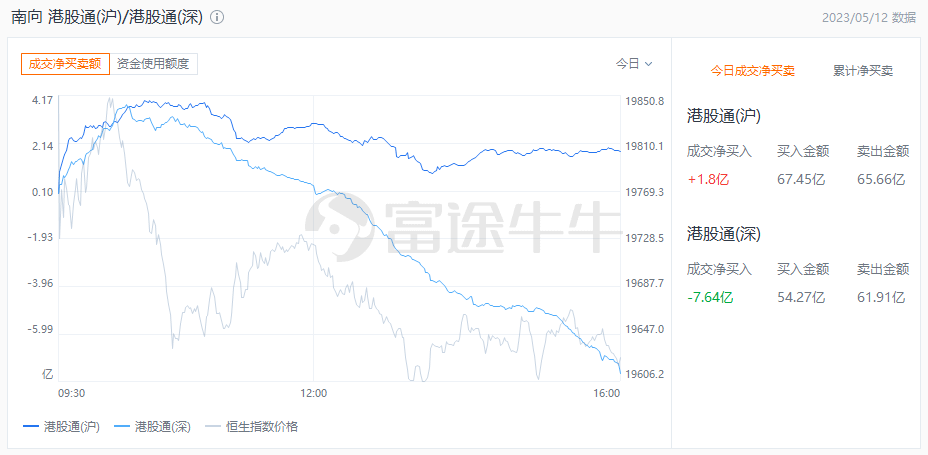 Institutional view
Macquarie: Give JD.com-SW an outperform rating, with a target price raised to HK$207
Macquarie released a research report saying that it rated JD.com-SW(09618.HK)$ "outperform the market" and raised the revenue forecast for the 2023/24 fiscal year by 1%, while the adjusted profit forecast increased by 8%/ 5%, and the target price increased by 1% to HK$207. The company's first-quarter adjusted profit beat expectations due to ongoing streamlining of operations. The third-party marketplace has witnessed initial progress year-to-date with a growing merchant and consumer base. The bank expects that JD Group's revenue in the second quarter of this year will increase by 5% year-on-year, of which JD's retail revenue will increase by 1% year-on-year, and the GMV trend will be faster, increasing by 7% year-on-year. Taking into account the combined impact of the upcoming 618 promotion and ongoing cost optimization efforts, its adjusted net profit is expected to reach RMB 6.8 billion, with an adjusted net margin of 2.4%.
Morgan Stanley: Lowered the target price of Hua Hong Semiconductor to HK$36, and the gross profit trend in the second quarter was weak as expected
According to Morgan Stanley's research report, the business development momentum of Hua Hong Semiconductor (01347.HK) is expected to surpass its peers, and its foundry capacity utilization rate is much higher than that of other mature node foundry peers. It is expected that the company's capacity utilization rate will Will reach 60% to 75%. However, the bank also pointed out that due to the increase in depreciation and the decline in the average selling price, the company's gross profit margin will decline. It is expected that the quarterly gross profit margin of this year will show a downward trend. The forecast was revised up 3 percent but cut by 8 percent for next year. The management expects the revenue in the second quarter to be flat quarter-on-quarter, but Morgan Stanley pointed out that further price declines may affect its gross profit margin performance, lowered the target price from HK$38 to HK$36, and maintained an "overweight" rating.
Goldman Sachs: SMIC's Q1 net profit beat expectations, target price rose to HK$21.4, maintained "neutral" rating
Goldman Sachs issued a research report stating that SMIC's (00981.HK) net profit in the first quarter was better than expected, exceeding analysts' average expectations, and its revenue and gross profit margin were both in line with expectations. 7%, better than expected. Goldman Sachs raised SMIC's profit forecast, raised its target price from HK$18.9 to HK$21.4, and maintained a "neutral" rating.
Edit/Hoten
Risk warning: The opinions of the authors or guests shown above have their own specific positions, and investment decisions must be based on independent thinking. Futu will try its best but cannot guarantee the accuracy and reliability of the above content, and will not be liable for any loss or damage caused by any inaccuracies or omissions.Return to Sohu to see more