Original title: Cloud Performance | When Luo Dayou collided with Stefanie Sun's childhood and youth, who did you choose?
Cover news reporter Xu Yu Yang Tu according to the network
Not surprisingly, after Mayday, Cui Jian, and Jay Chou, the momentum of online concerts has further grown. On the evening of May 27, two more "great god-level" singers held an online concert – Luo Dayou's childhood concert was broadcast on the video account, and Stefanie Sun's online singing and chatting session was held on Douyin.
Once the two were officially announced, they almost responded with a screen-swiping response in the circle of friends. Luo Dayou and Stefanie Sun, whether you are born in the 60s, 70s, 80s, or 90s, are all "rounded" for everyone. So here comes the problem. Faced with two people who are singing at about the same time, one is "childhood" and the other is "youth", who is the problem.
In fact, for the two platforms, this is also a "traffic" battle that everyone can see.
Luo Dayou's childhood concert poster
At 19:30, Luo Dayou's online concert entered a 30-minute warm-up stage. Before the performance officially started, the number of viewers exceeded 5 million. At 8 o'clock, Luo Dayou, who is 68 years old this year, appeared wearing black-rimmed glasses, played the piano, and officially started singing with the song "Wild Lily Also Has Spring". The venue of the concert was selected on a lawn, and accompanied by the band, you could play and sing comfortably.
The reporter learned from some musicians in Chengdu that on the evening of May 27, many taverns and music spaces posted concert videos on large screens, attracting many fans to spontaneously organize offline viewing.
After Jay Chou, the video account gave the audience a "strong general" and invited Luo Dayou to sing. Obviously, it was already arranged. On May 22, Luo Dayou announced that he officially entered the WeChat video account, and mentioned that the video account was his first video social account, and he will use this as a base to share music and daily life.
This year is also the 40th anniversary of Luo Dayou's debut. Luo Dayou, born in 1954, is one of the most representative Chinese singers in contemporary times. "On the banyan tree by the pond, I know summer." As soon as "Childhood" came out, it spanned decades. This is the childhood memory of almost every Chinese. Loved by countless fans.
It is worth mentioning that the exclusive title logo of a certain car brand appeared in Cui Jian's concert and this Luo Dayou concert. The brand also revealed in its official account that there will be cultural and entertainment cross-border benefits on Fridays of every month in the future. The cumulative viewing volume of Cui Jian's online concert has reached 63.7 million, and many insiders also speculate that the brand has "winned". From the follow-up follow-up and continuous "circle expansion", through the three parties of singers, platforms, and sponsors, it seems that the online concert has indeed found a suitable "road".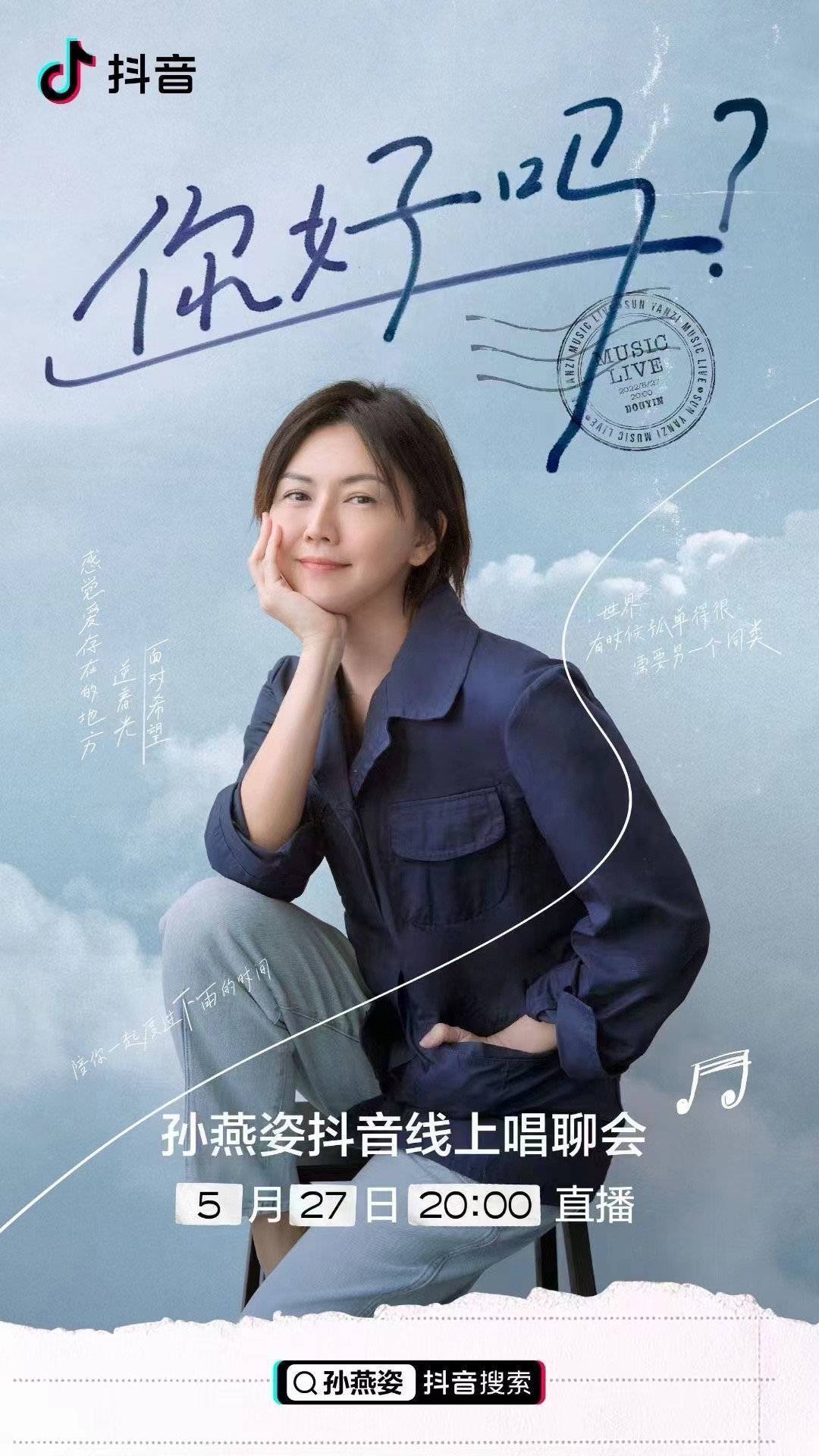 Stefanie Sun's online singing and chatting poster
On the other hand, Stefanie Sun's online singing and chatting sessions are the most authentic youth memories of the post-80s and 90s. "Men have Jay Chou and women have Stefanie Sun." Years have passed, and the data of Douyin live broadcast can tell us that this pattern still exists.
On the evening of May 27th, Stefanie Sun appeared in the Douyin live broadcast room, dressed in a simple white suit, and shared the latest situation with fans in the form of chat. Luo Dayou had already sang "sweating" over there, and Stefanie Sun was talking about "health care" here. ". About 20 minutes after the broadcast, Stefanie Sun sang the first song, and the number of viewers at this time had exceeded 100 million.
Some fans wrote in the comment area: For this show, the most sincere, one is the real live broadcast, and the other is to turn off the function of all fans spending money as a reward.
Stefanie Sun, born in 1978, has masterpieces such as "Dark Sky", "I Begin to Understand", "What I Miss", "Meet" and "Green Light". After his debut, he has repeatedly broken records in the Chinese music scene.
This is not the first time that Stefanie Sun has held an online concert. In September 2021, Stefanie Sun once held an online performance. Although the live performance was only for an hour, it received countless traffic, and the number of likes reached 600 million. The data is amazing.
In the previous publicity and live broadcast, the reporter found that Stefanie Sun's live performance on Douyin did not officially announce sponsors and commercial promotion cooperation, and even closed the payment function of Douyin's live broadcast. But it can be seen that Douyin has been experimenting with a paid-for-performance viewing model. In August last year, the "Summer Song Club" attracted countless fans, and Douyin took the form of collecting a small amount of tickets, with the ticket price ranging from 6 yuan to 30 yuan.
Luo Dayou or Stefanie Sun? For those who are sentimental, it does not seem to be a problem to watch one on two mobile phones at the same time. Who did you choose tonight?Return to Sohu, see more
Editor:
Disclaimer: The opinions of this article only represent the author himself, Sohu is an information publishing platform, and Sohu only provides information storage space services.