From Lan Xinhui, a graceful and graceful woman, to a heroic heroine who doesn't let her eyebrows go; In the challenging acting career, Liu Yifei devotes herself time and time again, constantly testing her perfect will to pursue excellence.The brand-new series "Going to a Windy Place" opened a heart-warming journey of gentle healing for the noisy and impetuous urbanites, triggering a frenzy of watching dramas.
The pioneering spirit of being sober and independent, daring to break through, and not setting limits for oneself is not only the spiritual pursuit that Liu Yifei and the younger generation jointly advocate, but also an effective carrier of Skyworth's "dare to innovate and dare to do" brand spirit, and a brand signal that is accurately conveyed to the target audience .As the leading brand in China's TV industry, Skyworth has been constantly breaking through the imagination of the industry and users with precise user insight and cutting-edge display technology.
Liu Yifei's appointment as Skyworth's global brand spokesperson is not only a two-way trip between Skyworth and Liu Yifei, but also a new attempt by Skyworth to embrace the future lifestyle of the younger generation, and continue to empower the rejuvenation and fashion of the Skyworth brand.On October 20, the spokesperson's official announcement was released, which attracted the attention of the whole network. Liu Yifei's stylish, positive and global image makes Skyworth "closer to young people". On October 24th, Liu Yifei's brand live broadcast debut – "Star River Night Talk" online meeting was held in Skyworth's live broadcast room, allowing Skyworth to successfully enter the spiritual life of consumers, while further enhancing the brand's influence among young people force.
The cumulative number of likes in the Skyworth live broadcast room that night was 3.77 million+, the cumulative number of viewers reached 2 million+, and the number of fans increased by 300,000+.On Double Eleven, which was a good start and broke out, in multiple dimensions such as picture quality, games, and giant screens, Skyworth once again joined hands with Liu Yifei to become the leader of the 2022 Double Eleven industry consumption boom.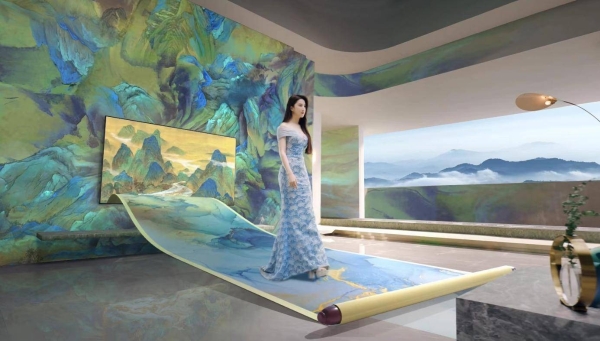 "Jiangshan" and "beauty" embrace heartily, and art and life are perfectly integrated. In the newly released Skyworth wallpaper TV "Skyworth, see the beauty of the East" theme TVC blockbuster, the amazing pictures that have been handed down the essence of paintings are fully integrated with Liu Yifei. The oriental charm complements each other and together creates a beautiful and unique oriental artistic conception.Together with Skyworth, Liu Yifei not only broke through the traditional paradigm of home appliance advertising, raised the product experience of home appliances to artistic and spiritual enjoyment, but also elevated Chinese brands to a new aesthetic and cultural height, expressing the beauty of the East with an international aesthetic language , to start a dialogue with the world.

252