[The Epoch Times, January 20, 2023](Epoch Times reporters Xiao Lusheng and Gu Xiaohua interviewed and reported) On January 19, two days before the traditional Chinese New Year, six people were killed in Pingyang County, Zhejiang Province. Yang Mouxun, a 42-year-old villager in Shuitou Town, killed the village party secretary and the land dispute mediator. People in the know said that he was driven into a hurry; the homestead was robbed, but Yang Mouxun was locked up in a mental hospital, his wife and children were separated, and his father was pissed off.
Villagers in Pingyang County, Zhejiang Province Killed the Party Secretary and Two Family Members
On the 19th, the Public Security Bureau of Pingyang County, Zhejiang Province reported that a criminal case occurred in the county that morning. The 42-year-old suspect Yang Mouxun (male, from Pingyang) committed an attack with a knife due to a dispute, resulting in the death of 6 people. Yang Mouxun has been brought under control.
The official notification did not disclose the details of the case, nor did it specify the specific content of the "dispute".
On the 20th, a reporter from The Epoch Times interviewed Chen Yihui (pseudonym), a local informed citizen. He said that the murderer did it twice. First, he killed 4 people in Xiwei Village, Shuitou Town, and then went to Shangmao Road, Tengjiao Town to kill 3 people.
"There is a little girl in Shangmaolu's family. He is merciful." Chen Yihui added that there were others who were not killed because they were stopped by the police.
Lin Yu (pseudonym), another resident of Shuitou Town who knew the matter, also confirmed to The Epoch Times that Yang Xun murdered two families in two places, first killing the village party secretary and then the land dispute mediator. Lin Yu said that a total of 6 people were killed, and a little girl was only injured. Yang Xun wanted to kill the mayor of Shuitou Town again, but the mayor ran away, and he himself was stopped by the police.
Lin Yu said, "They all have vendettas, and bullying him is too cruel. There is no way to ruin the family."
The Epoch Times reporter called the Pingyang County Public Security Bureau, but the phone could not be connected. The reporter called the government of Tengjiao Town, and a person who answered the phone asked the reporter to contact the Pingyang County Propaganda Department, saying that all the information was released by the Propaganda Department. The reporter called the Pingyang county government, but no one answered the phone.
This incident aroused heated discussions among the public, and netizens left messages asking: "Is it Zhang Koukou or Ou Jinzhong?" ​"
Zhang Koukou killed 3 family members in a row to avenge his mother, while Ou Jinzhong killed 2 people and injured 3 people with a knife because his neighbors prevented him from building a house and was homeless.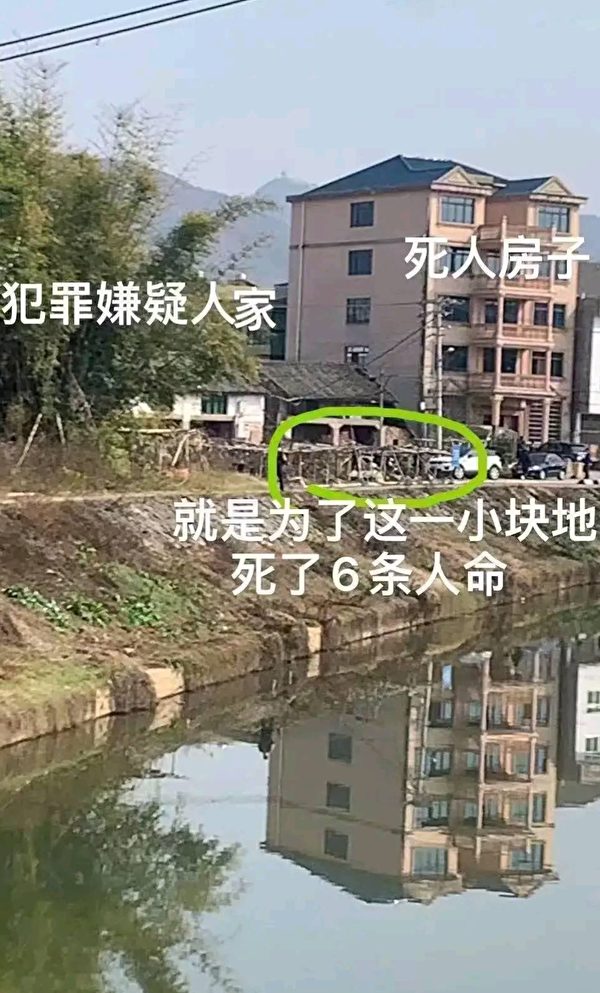 Village party secretary forcibly seizes villagers' land
Chen Yihui, an informed citizen in Pingyang County, Zhejiang Province, said, "When (the murderer) killed the (village party secretary's) family members, he said that he had nothing to do with your passers-by, and walked away." "He was also forced to rush."
Chen Yihui introduced that the murderer, Yang Xun, lived in Xiwei Village, Shuitou Town. Because the foundation of his house was occupied by village cadres to build a small western-style building, it was useless to write letters to Beijing. Some people above the village cadres said, "His (murderer) father is because of the land. The problem was forced to death, and my mother just died of the new crown."
Chen Yihui said that Yang Mouxun himself was taken to prison by people from the local government because of the seizure of the foundation of his home. "He has been exercising in prison, just to get revenge."
Lin Yu, a villager in Shuitou town, added that Yang Xun was imprisoned in a mental hospital for two or three years, his wife divorced him, and his teenage children were taken away by his wife; "There is no home".
"He came out of prison and his family was ruined, just for revenge," Lin Yu said. "He was holding a knife, driving a car, and an electric shock baton." Alright, come out and kill."
Lin Yu said that the village secretary was Yang Xun's neighbor, and because of his power, he didn't sign anything when he seized the land.
"(At the time of the murder) no one dared to stop him, because he was holding a knife," Lin Yu said, "At that time, he told those unrelated people to stay away, because he didn't want to kill innocent people indiscriminately." Those with a goal." "They are all honest people who are forced too hard." "There is no way out, and the family is ruined."
Lin Yu told the Epoch Times reporter the details of the land dispute. The homestead was originally offered for 50,000 yuan, but Yang Xun's family only received 30,000 yuan, and 20,000 yuan was embezzled by the village secretary.
"This kind of thing is very common here, and it's useless for you to call the police," Lin Yu said. "The police don't care about those with a little bit of power, and the officials protect each other. It's like this on our side."
He revealed that there are many drug dealers in Shuitou Town. "In the past, drug dealers were arrested and the drugs were confiscated by the police. The attitude of the civil servants here is not good."
Lin Yu said that relevant information was blocked. What he knew was that the murderer turned himself in directly, "I don't even want to live anymore."
A netizen left a message saying: "The whole society is like a pressure cooker that explodes every once in a while."
Responsible editor: Fang Ming#