© Reuters. A-share market closes: Shanghai Composite Index narrowly guards 3,200 points, Kweichow Moutai hits half-year low, will it rebound in June?

Investing.com – On Wednesday (31st), the Shanghai Composite Index fell below 3200 points again, but rebounded slightly in the late market, falling 3.5% for the whole month. At the same time, the Shenzhen Component Index and ChiNext Index months down.
Today, the turnover of A shares and the two markets was 938.8 billion yuan, compared with 933.2 billion yuan in the previous trading day. Foreign capital sold again after a lapse of two days. The net sale of northbound funds was 3.798 billion, which was more than 5 billion at one time earlier, but the net inflow was 3.081 billion, and the inflow of funds was mainly concentrated in the late market.
As of market close:
It fell 0.61% to close at 3204.56 points, down 3.57% for the whole month;
It fell 0.70%, closing at 10793.85 points, and fell 4.80% for the whole month, falling for four consecutive months;
It fell 1.14%, closing at 2193.41 points, and fell 5.65% for the whole month, falling for four consecutive months;
Up 0.91%, closing at 1053.91 points, down 3.12% for the whole month;
At the time of writing, it was down 1.38% at 12,224.0 points.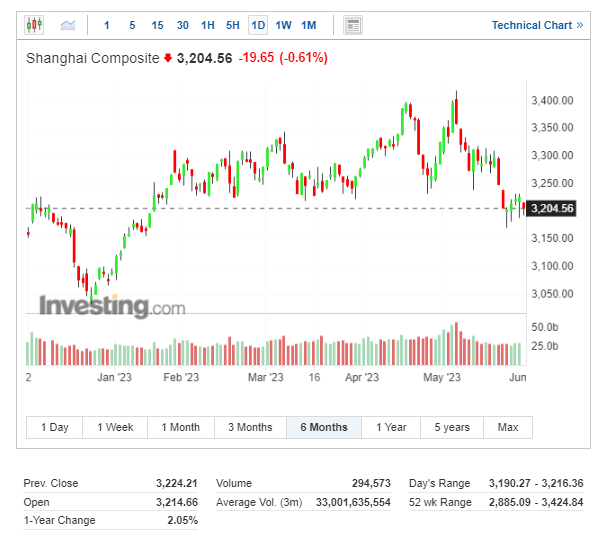 Coal stocks led the decline, Yankuang Energy (SS:) fell about 9%, Shaanxi Coal (SS:) and China Shenhua (SS:) fell more than 3%.
Power stocks retreated from their highs, with Guidong Electric Power (SS: ) and Hengsheng Energy (SS: ) falling by their limits, and Hangzhou Thermal Power (SS: ) falling by more than 9%.
Pork stocks fell, Muyuan (SZ:), Shunxin Agriculture (SZ:) fell more than 4%, and Aonong Bio (SS:) fell by the limit.
NVIDIA concept stocks continued to rise, Hongbo shares (SZ: ), Jingwang Electronics (SS: ) rose by the limit, and Chuangda (SZ: ) rose about 7%.
VR/MR concept stocks were among the biggest gainers. ArcSoft Technology (SS:) rose 13%, Everwin Precision (SZ:) rose 3%, and Rongqi Technology (SZ:) rose 11%.
Cloud computing and computing power stocks rose, Yihualu (SZ:) rose more than 8%, Inspur Information (SZ:) rose about 2%, Shenzhou Taiyue (SZ:) rose more than 4%, Capital Online (SZ:) rose More than 8%.
Kweichow Moutai (SS: ) fell 2.36% to 1,628.90 yuan, a new low since early December last year, and its total market value fell by 2 trillion yuan.
Looking ahead, Kaiyuan Securities maintains a cautious view on the overall situation of the A-share market in June. They said, "On the one hand, from the perspective of overseas markets, it is expected that the probability of the Fed's interest rate cut this year is low, and even the market's expectations for an interest rate hike in June are still rising. The endogenous restoration of the domestic economy is facing a relatively difficult end to "active de-storage", and the probability of interest rate cuts is still high. However, the pressure of short-term RMB depreciation has increased, which may lead to a decline in market risk appetite. "
However, Kaiyuan Securities believes that the medium and long-term prospects of A shares may still be promising, but the premise is that in the second half of the year, "domestic consumption capacity will be restored, the savings rate will decline, and the capacity utilization rate, CPI, PPI, etc. will gradually stabilize, and the domestic economy will gradually enter a "passive market". Destocking phase.
【Maximize investment income, join InvestingPro, accurately grasp the opportunity, and capture the market trend! Try it now with a 7-day free trial. 】
recommended readingread
Editor: Liu Chuan