The 2021 Beijing International Game Innovation Conference will be held in Haidian District from September 24 to 26 with the theme of "Innovation·Leader·Integration". With the title of "Recognizing Games", it showcases the social value of games beyond "entertainment". Tencent introduced Nintendo Switch™ to participate in the exhibition with four games "Fitness Ring Adventure", "Super Mario Party", "Hot Punch Boxing 2", and "Dr. Kawashima Brain Training", hoping to participate in sports fitness, interactive social networking, puzzles, etc. Bring a whole new experience to the audience.
Tencent introduces innovative features of Nintendo Switch™
Nintendo Switch™ is a new-generation game console developed by Nintendo of Japan. It innovatively combines the console and the handheld into one, which can be switched in different situations to meet a variety of leisure and entertainment needs. The removable Joy-Con™ handle has built-in "acceleration sensor" and "gyro sensor", which can recognize the movement and strength of various parts of the body. The right Joy-Con™ handle also has a "motion-sensitive infrared camera". Can read the shape, movement and distance of the object. These functions make all kinds of somatosensory games possible, and bring players the Nintendo-style game fun of "switching as you like and playing together".
Tencent utilizes its own technological Internet and social platform advantages to provide a number of unique localized services for Bank of China Nintendo Switch users, including allowing Bank of China users to purchase games in the built-in "Nintendo e Store" through WeChat Pay. The WeChat Mini Program can conveniently record your own sports (game) data and share it with relatives and friends at any time.
In addition, Tencent has also developed a WeChat applet for parents or guardians to manage the content, play time, available functions, and game consumption of minors to help them develop a healthy game view.
Tencent introduces Nintendo Switch™
Four innovative gameplay methods, make you fun and healthy
"Fitness Ring Adventure" through special accessories Ring-Con™ and leg straps with handles, can fully recognize and monitor the user's actual sports movements, and convert them into the actions of the game characters, for exploration and adventure in the game world. This kind of somatosensory interaction design innovatively realizes the "gamification" of fitness gameplay, enabling players to exercise happily and develop healthy lifestyle habits. As a brand new home exercise method, it has also won CCTV and other categories. Media coverage and recognition, social media responded enthusiastically.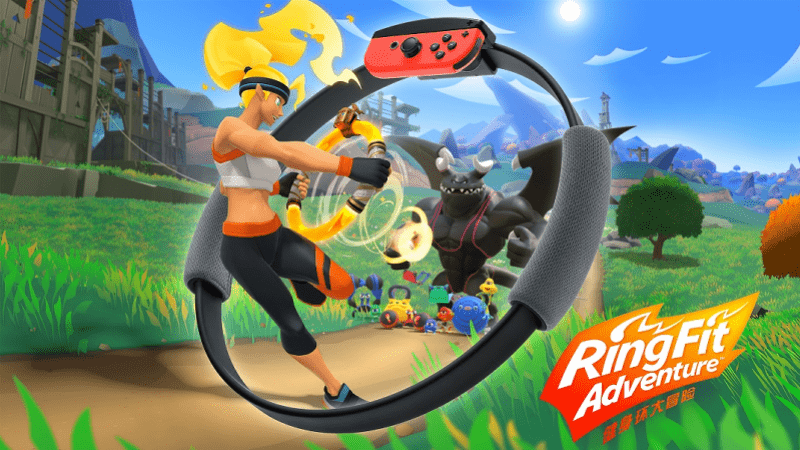 Tencent introduces Nintendo Switch™ game "Fitness Ring Adventure"
"Super Mario Party" is a multiplayer party game that makes full use of the sharing controller and somatosensory functions. Anyone can easily play 3 major modes and up to 80 fun games. You can play with family and friends. In the lively and happy party new gameplay, there are more intimate interactions, creating common happy memories, and drawing a new picture of living room leisure and entertainment.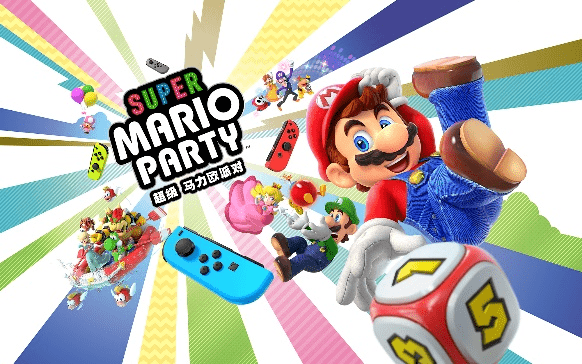 Tencent introduces Nintendo Switch™ game "Super Mario Party"
There are also two other games in preparation at the exhibition, "Hot Punch 2" and "Dr. Kawashima's Brain Exercise". The former is a somatosensory boxing sports game. As long as you hold the handle, you can follow the dynamic music and rhythm in the game to perform punching, squatting and other actions. Through the training of a virtual coach, you can become a "boxing master" step by step without additional Fitness equipment, use games to happily complete the whole body exercise at home, sweat and release stress! The latter is a puzzle game developed by Nintendo and Ryota Kawashima, a doctor of neuroscience at Tohoku University in Japan. The "motion-sensing infrared camera" on the right handle can be used to recognize hand gestures such as boxing. Coordinated coordination exercises, as well as a series of exercises such as reaction, memory, and calculation, are used to activate the corresponding areas of the brain and improve its functions. At the same time, it also creates more opportunities for communication with family members, to better understand their physical and mental health, to care for their families, and to create a harmonious family atmosphere.

Nintendo Switch™ games "Hot Punch 2" and "Dr. Kawashima's Brain Training"
Through the introduction of Nintendo Switch, Tencent allows more Chinese consumers to experience the happiness and infinite possibilities of "enjoying together, connecting with hearts", making games an important bridge for communication between relatives and friends, using innovative ways to improve physical and mental health and promote emotions comminicate.Return to Sohu to see more
Editor:
Disclaimer: The opinions of this article only represent the author himself. Sohu is an information publishing platform. Sohu only provides information storage space services.
.