With the familiar melody of "Ru Yan", Tan Congchong's high-pitched singing and Sha Yiting's emotional original rap sang about their youth. Produced by Hunan Satellite TV and Mango TV, the youth co-creation music competition variety show "Youth π Project" will be broadcast on June 8th. , rock, stage play and other music styles are creatively integrated. It's the graduation season, and the "π youths" are also showing the infinite possibilities of surprises belonging to the new generation in their youthful performances.
Set off each other and achieve each other "like smoke" stage youth friendship heals and warms hearts
Tan Congchong and Sha Yiting are good friends who talk about everything in daily life, and their cooperation on stage also complements each other. After the adaptation of the two, the stage of "Ru Yan" has a sense of scattered space one after another. Sha Yiting's original rap with a very youthful spirit, and Tan Congchong's straightforward and story-telling rock singing, the two styles of singing are fused together. Together, they brought youthful energy to the audience.
"You don't have to be so tired, let me give you some comfort." Just like the comfort that Sha Yiting wanted to convey to his friend Tan Congchong in "Like Smoke", the young contestants will help each other in a direct and warm way. Pass the cheer and encouragement to each other, and sing for the "infinite possibilities" of youth.
Standing at the transition of life and looking at the future, the stage of "Goodbye Deep Sea" will sing farewell and hope
Yan An and Shen Chuanqi didn't know each other very well before this cooperation. In order to interpret the song "Goodbye Deep Sea" more tacitly, the two tried to exchange and experience each other's life for a day during the training process. On the stage, Shen Chuanqi and Yan Yu looked at each other from a distance, and sang a healing story full of hope and encouragement.
Either quiet and profound, or vigorous and unrestrained, when different youthful energies are fused in the music with an open and inclusive attitude, the chemical reaction produced not only surprises every audience, but also conveys the moving vitality of youth bursting out in mutual assistance and cooperation .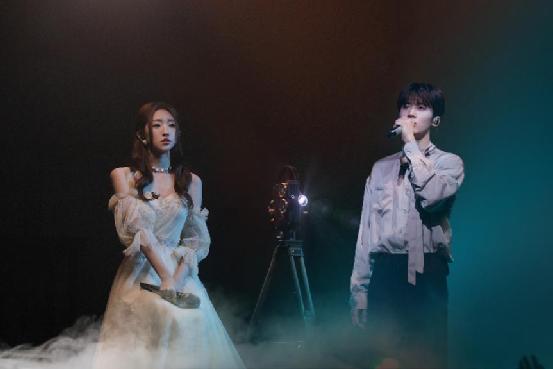 At the time of the graduation season of the college entrance examination, "Youth π Project" takes an inclusive attitude of youth without limits. On the stage belonging to young people, through their cooperation, new energy will be burst out, and the youthful motivation with "infinite possibilities" like "π" will be conveyed. , Send sincere blessings to all the students. It is hoped that they, who are exploring a bright future on the road of life, can go hand in hand with their companions to unlock their own wonderful unknowns. The program is broadcast exclusively on Mango TV every Thursday at 12 noon, and jointly broadcast on Hunan Satellite TV. We look forward to the "π youth" continuing to burst into vitality on the stage, conveying dreams and infinite hopes.