Real Madrid players celebrate winning the Copa del Rey Picture/Vision China
On May 7, the final of the Spanish King's Cup was staged at the La Caduja Stadium in Seville. Real Madrid narrowly defeated the mid-range La Liga team Osasuna 2-1, and won the King's Cup again after 9 years. Rodri Ge arranged two goals for Real Madrid. In the Copa del Rey ranking list, Barcelona leads with 31 times, Bilbao ranks second with 24 times, and Real Madrid ranks third with 20 times.
9 years ago, Real Madrid's three strikers were the famous "BBC combination", Ronaldo, Benzema, and Bell were all powerful. Now Benzema is not old, and his striker partners have been replaced by Brazilian "Gemini" Vinicius and Rodrigo.
Less than two minutes into the game, Vinicius forced a breakthrough from the left and passed back in an inverted triangle. Rodrigo outflanked and pushed into the net, and Real Madrid took the lead early. Real Madrid's three strikers played smoothly in the 24th minute. Vinicius made a pass from the left, Rodrigo sent a wonderful pass with his heel, and Benzema's push was saved by goalkeeper Herrera.
In the 58th minute, Osasuna midfielder Toro shot a cold arrow in front of the penalty area and used a "stick to the ground" to equalize the score. Real Madrid's offensive engine, Vinicius, caused confusion in front of Osasuna's goal in the 70th minute with a cross from the left. Kroos' shot was blocked by defender Garcia's outstretched foot, and Rodrigo took advantage of the opportunity to score the winning goal. Real Madrid coach Ancelotti replaced Rodrygo with Asensio in the 89th minute, allowing him to accept the warm cheers of the Real Madrid fans.
When Real Madrid won the Copa del Rey 9 years ago, they beat Barcelona 2-1 in the final. In the 85th minute, Bale "rided a thousand miles alone" and scored the winning goal after forcing the central defender Bartra to become a masterpiece. Like Bale, Rodrigo mainly occupies the right winger position of Real Madrid. Although his performance is not as dazzling as the "Great Sage", his performance is becoming more and more important to Real Madrid.
Ancelotti said after the game: "This trophy came at the right time. We have come here through a very difficult game. This is the return of our hard work when we face a strong opponent. Now we have to consider the next game against Manchester City. Champions League semi-final first leg."
This King's Cup final became Kroos' milestone battle. This is the first time he won the King's Cup. won the "Grand Slam".
Yangcheng Evening News reporter Liu Yi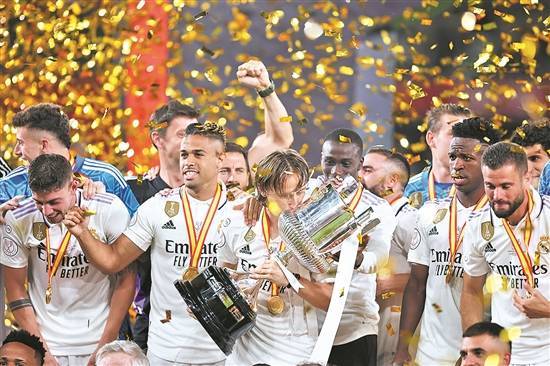 Return to Sohu to see more
Editor:
Disclaimer: The opinions of this article represent only the author himself. Sohu is an information release platform, and Sohu only provides information storage space services.