[The Epoch Times, March 2, 2022](The Epoch Times, France, Paris Reporter Station) "Peace, harmony, harmony, a visual feast." Patrick Guedj, the owner of the consulting firm, said after watching the Shen Yun performance with his old friends .
On the evening of March 1, the Shen Yun Global Art Troupe once again performed at the Palais des Congrès de Paris. This is the second time Shen Yun has performed in Paris since January. The profound connotation of the show has amazed mainstream audiences from all walks of life.
Shen Yun delivers the message of peace and compassion, the owner of the company greets the art director
The consultant company owner Patrick Guedj and his old friends Norbert Cohen and his wife met to watch the Shen Yun performance together. They said that they had not seen each other for a long time.
Guedj said: "I really like the program of songs, the tenor is great, very powerful, the songs are very, very beautiful, and I also like dancing."
"The overall color is rich and the stage decoration is magnificent. I especially like the dynamic effect on the stage background. The technology is very good. It shouldn't be easy to do it like a character jumping out (from the background canopy). I like it very much." He said.
Norbert Cohen is the dentist who runs the clinic. He said: "Tonight I am very happy, very wonderful, we had a very good evening, I really appreciate the soprano solo, the lyrics are very symbolic, very spiritual."
Cohen said that he deeply resonated with Shen Yun songs, "The lyrics of the song are reminiscent of spiritual things, which are very meaningful to people. We feel that there is a symbolism and a willingness to convey information, which is very important. I think the message was delivered very well."
He also emphasized, "It is very important that the (Chinese) lyrics are translated (French), and it is very important to know the meaning of the lyrics."
"We felt the show was soulful, combining colors, songs and themes," Cohen said. "(The show) sent a message of peace, serenity and serenity, and tonight, we felt serene, feasting for the eyes and hearts. It was full of good things and felt very comfortable."
Guedj wishes to pay tribute to Shen Yun's artistic directors and Shen Yun artists, "who are honored to have this profession and have been able to deliver so many messages of peace and love in one night."
Group General Manager: Shen Yun brings positive and beautiful feelings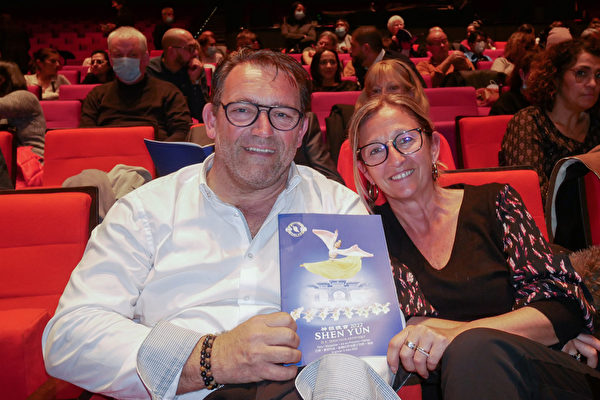 Frank Huéber is Deputy Managing Director of a global human resources management group. He and his wife made a special trip from Toulouse in the south to Paris to watch the Shen Yun performance. "My wife likes Asian culture and meditation very much, which helps improve the spirit of the individual." Huéber said that watching the performance "felt great."
Mrs. Huéber said that she got news about Shen Yun's performance online, "I'm already very interested in Shen Yun, and seeing the performance live gives people a very strong feeling both visually and emotionally." Both the couple said that the performance was full of energy.
"The show was beautiful, artistic and dynamic, and it made me discover a culture that we didn't know," Huéber said. "We felt a desire to showcase the country's (Chinese) culture, which is currently unavailable there. ."
Shen Yun is working hard to revive five thousand years of Chinese traditional culture. Huéber said: "I think this mission is very good. It allows us Europeans to understand and learn (Chinese traditional culture). Thanks to Shen Yun, we can know."
He resonated with the traditional Chinese values ​​passed on. "At least we started to have an understanding," he said.
Huéber praised Shen Yun dancers for their high skills, "We have always liked dance performances, and we love (Shen Yun) dancers very much." Shen Yun interprets historical stories through dance, although there is no verbal expression, "but we all understand it."
Huéber also praised Shen Yun Live Orchestra's accompaniment as "very pleasing", "The performance allows us to think about other things (besides the epidemic), have a good time, and tell ourselves that there are good things happening in this world after all, which makes people feel positive. ."
Group Operations Director: Shen Yun's dynamic sky is amazing and refreshing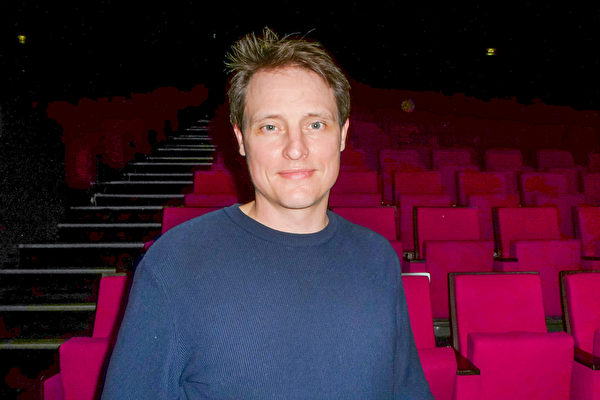 Mr. Pierre Bernard-Guèle is the Operations Director of a French restaurant chain (Del Arte) group, responsible for the development of more than 70 restaurants in northern France and the Paris region. That night, he and his wife watched the Shen Yun performance for the first time. He said: "The performance is refreshing." In particular, he was impressed by the ingenious effect of the innovative dynamic canopy.
"I love the background animation, I think it's legendary," he said.
Bernard-Guèle said: "You can see a lot in the animation in the background sky alone, and the feeling is very appropriate, and the host explained it very clearly before each program, so that we can understand it very well." The story of "Monkeys in the Heavenly Palace" also shows the close connection between Chinese culture and gods, and he thinks it is "very good".
Bernard-Guèle expressed his interest in martial arts. His wife is also a ballet dancer, and he was full of novelty to watch Chinese classical dance. "The dance and the colors are very beautiful, and the dancers move fast, which amazes me. "
In addition, Bernard-Guèle was shocked by the stories of people with spiritual beliefs in China today being persecuted by the CCP, "These are information that we don't know, we know that there are some freedoms that our country enjoys that we don't have in China, and we are not I understand very well, but I don't know it will reach this point, especially for some groups that I think (very peaceful), as the host explained, they are practicing Falun Gong, which is very common to me. My mother-in-law loves yoga and meditation."
Artist: Shen Yun Sky is very magical and dizzying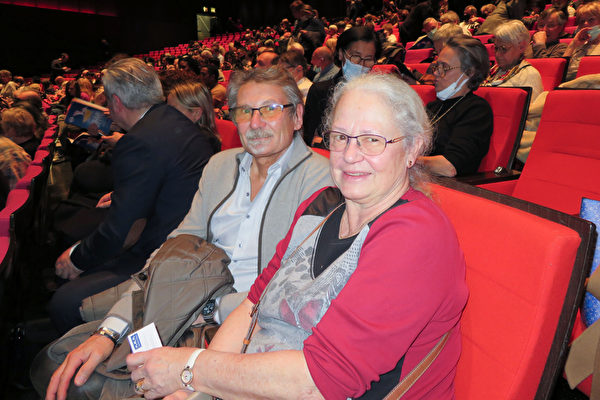 "The colors are rich, and the performance is very magical and dizzying." This is what painter Martine Chavent said after watching Shen Yun's performance.
On March 1, painter Martine Chavent and Mr. Gilles Chavent made a special trip from Lyon to Paris to see Shen Yun. The performance ticket was a Christmas gift from their daughter.
Martine Chavent is very fond of Shen Yun's lifelike dynamic canopy, "I like the characters going in and out of the canopy very much, it's very magical."
He said he liked the Chinese classical music in the performance. "I love the jumping and tumbling in the dance, it's brilliant, I'm surprised, but it fits into the show so well," Chavent said.
"That show at the restaurant, I felt the spirit of solidarity and collaboration, when a restaurant caught fire, people working together, it was fun, it was fun."
Responsible editor: Wang Yuyu#